Telegram has been one of the most secure messengers for a long time. It has Encryption from the very beginning, a feature which took other chat apps many ages to offer. I'm myself a big fan of Telegram and have been using it since 2015. It's way better than any messenger out there. Yes, it's even better than WhatsApp.
If you're someone who uses chatting apps like WhatsApp, Fb Messenger, etc. you would have certainly heard of Telegram. It's one of the biggest competitors of Facebook-owned WhatsApp, WeChat, and Hike. Also, I consider Telegram to be the very best messaging app in the world of mobile apps.
There are many reasons you should Telegram over any other messaging app. But one of the features which makes it such an amazing app is that you get the Telegram Bots. These aren't your dangerous bots trying to overthrow humanity and rule over the world. With these Telegram Bots, you can make your life easier.
I will tell you about some of the best bots you can use on Telegram but before that, you must know what these bots exactly are. Right?
So, What exactly are Telegram Bots?
According to Telegram –
Bots are 3rd party apps which run within Telegram. You can easily interact with these bots by sending them messages, in-line commands, etc. Remember if you're using bots then your Telegram may be less secure. Although it doesn't happen much you should use bots from trusted sources only.
There are many advantages of using Telegram bots, some of them are –
Customized news & notifications.
Creation of custom tools.
Increases the ability to do anything you want. etc.
Now, without wasting more of your time let's begin the list…
The Most Useful & Best Telegram Bots Of 2019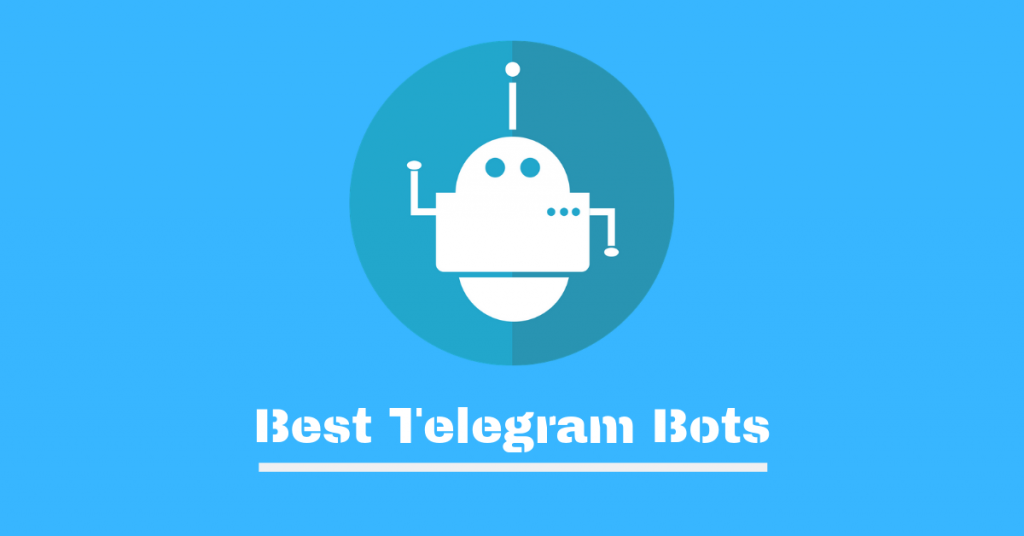 What Music Bot
You would know about the app Shazam (Not, the superhero one). This bot does the very same work which this whole app does. This bot can be used for identifying and recognizing songs with just the help of the song's audio.
Using this bot is pretty easy. You need to first open a chat window, tap on record button while playing the some. After that send it, the bot will reply within seconds and tell you the name of the song. Nice. Isn't it?
Pronunciation Bot
Many people, including myself, suck at pronunciation words the right way.  If you're a non-native person then learning a language correctly and making the right pronunciation will take years to master.
However, there's a telegram bot which can make the work easier for you. That's the pronunciation bot. You just need to send the word you need to enunciate and it will send the pronunciation with audio. It supports 84 languages.
Weatherman
The weather is an amazing thing, it changes very quickly. How many times has it happened that you've made a weekend plan and it just rained on your plans? That's why seeing weather forecasts is important.
With the Weatherman Bot, you will get forecasts on the telegram app. It provides daily & weekly forecasts so you can plan your day according to the weather. You can also get forecasts alerts and notifications.
Spoty Bot
Do you love music? If yes, then you would have certainly heard of and used Spotify. It's without a doubt the best music player app for Android & iOS. But do you know of any chat app that can play music?
If no, then you will know now that in Telegram you can play music from Spotify with the help of the Spoty Bot. You can use all the features of Spotify with the help of this bot. This is one of my favorite bots.
Word Bot
Tired of carrying a dictionary to learn the meaning of simple words? If yes, this Telegram bot will be useful for you. With the Word Bot, you can learn the meaning of any word within seconds. It's good for those who want to get better in English.
Using this bot is easy. You just need to open the chat window, send the word and get it's meaning back within a few seconds. Learning new words is important for anyone who wants to become better in any language.
Poker Bot
All work and no play makes Jack a dull boy, we all know this quote. But it's hard to make time for playing games when you're an adult, we are busy for apparently no reason. This bot lets you play poker with anyone you want.
The Poker bot is great for those who have a real addiction to this game. The game is real and super interesting but the best part is there is no real money involved. So, it isn't a gamble. You can play it with your friends and family.
Markdown Bot
You know there's one thing I don't like and that's chatting with people who don't use emojis. Ok, emojis are good we know, they lighten up the mood, look good, makes chat interesting, etc. But there is one thing people ignore.
And those things are making words italics, bold or underlined. With this bot, you can make your texts look good with commands like @bold, @italics, @underline, etc. You don't have to click 2-3 buttons to do the same.
Trending Bot
We are living in a world of social media where fake news rules. It's hard to distinguish between the fake and the real one. And, it is also harder to know what's popular news or which is just being shown as a popular one.
With the help of the Trending Bot, you can easily know what news is trending around the internet. It will make it easier for you to find many sources of single news and know what's right. After all, only one site may be biased but many won't.
DeLorean
While the name reminds you of a certain plot where it's helping in time traveling stuff, this bot won't let you travel back in time. However, with the help of this bot, you will never forget anything. It's a reminder bot.
Using this bot is very easy. All you need to do is to write a message like "Remind me at 1 Pm for eating pasta" and it will do the same. You can also receive the reminders at emails if aren't at your mobile phone every time.
GIF Search Bot
You know what makes chats super enjoyable. Yes, the GIFs are something which sparks up the conversations 1000x for me. I don't like chatting with someone who won't let me send GIFs. There are many few people who don't like GIFs.
Do you also love GIFs as I do? If yes, then this bot is for you. With this bot, you can search any GIFs just by putting in the text and the GIFs suggestions will come. It's pretty good Telegram bot if you love chatting with people.
Speech-To-Text Bot
Many people have to write a lot. As a blogger even I have to write very much. Some people even write through their cellphones. If you're one of those people you will love this Speech-To-Text Bot.
With the help of this bot, you only have to open the chat window and start speaking. Whatever you speak will be converted into text in no time. It's one of the most productive bots in this list. I also make use of this bot.
Crypto Whale Bot
Cryptocurrency is something which is the future. In 2017, the craze for cryptocurrencies like Bitcoin, Litecoin, and others was at the highest. Many people still follow cryptocurrency news & even make money with crypto trading.
If you are interested in doing cryptocurrency trading and want to keep track of the prices then you are going to love this bot. The Crypto Whale bot will provide you price charts, market capitalization other important details.
Uber Taxi Bot
Long gone are the days when you have to go to the road and look for taxis. Now apps like uber, ola, etc. are ruling the market. Everyone books cabs from their mobile phones. We're living in a time where everything is done from mobile.
With the Uber taxi bot, you will be able to directly book cabs from the telegram app. You just need to give commands like "book cab from the hotel". The best part is you don't even need to have the Uber app on your phone.
Photo Setter Bot
Have you ever thought of a way in which you can get the text of everything that's present in an image? If you're looking for something like this then the Photo Setter Bot is something you will like.
The Photo Setter Bot allows you to have an OCR like functionality in your mobile phone that too without downloading any extra app. All you have to do is upload the image and you will get the text back.
Skeddy
Remember just above I talked about the DeLorean bot. This one is the same as that one, it's aim is also to set your reminders. Skeddy isn't much different from the DeLorean bot, you can use any one of them.
Skeddy bot understands human language so if you text it something like this "Hey Skiddy, can you remind me to sleep at 10 PM" it will set the reminder and notify you when the time comes. It's a productive bot.
Convert To PDF
There are times when you need PDF documents but the only kind of file you have are of JPEG, .doc, etc. I have listed some of the ways in which you can convert files to PDF, you can also do the same with this Telegram bot.
This bot can convert DOC, DOCX, ODT, TXT, and JPEG to PDF instantly. All you need to do is send the file to the bot and within a few seconds, you will get the file in the PDF format.
Metrics Bot
Being a website owner if hard. You have to keep track of a lot of things like how many visitors visited your site, how much money you made, etc. Of course, there are apps for these things but visiting them again & again is boring.
With the Metrics Bot, you can get all the data related to your site within Telegram. You only have to ask "How's my website dong?" & the bot will give an overview of Google Analytics account.
Store Bot
There are hundreds, thousands of telegrams bots present out there but it's impossible to cover all of them. If you want to see a bot that I failed to cover and want to know about more of them then this bot will help you.
With the Store Bot, you will get to know about more amazing bots out there. One other thing about this bot is that it's an official bot, it isn't developed by any third party. It's like a bot store and you're surely like it.
Wolfram Bot
Wolfram Alpha is one of the most popular and well-known computation knowledge engines. If not, it's the best. In simple words, this site is used for finding any curated data. If it's about numbers then you will find it here.
With the Wolfram Bot, you can do all the things within the app which are possible through this site. You just need to ask a question and you will get the factual data-backed answer within a few seconds. You should try it out.
Chats Against Humanity
You would have played a card game named "Cards against Humanity". If no, just add the Telegram bot named chats against humanity, it's just the digital version of the original card game. The original game was an internet sensation.
You can play this game with your friends or anyone you want. Just add the bot to your group and open a private message with it. After that start with any message like "start XYZ". The game will start. Enjoy!
Conclusion
These are some of the very best Telegram bots that you can use and make your life easy. There are literally thousands of bots made for Telegram if we had to go and check out each one of them it would take me months to do so. I just checked out some of the very best and put them in this list.
If you think I've forgotten to add any good Telegram Bot to this list you can give your suggestions in the comments box. And if you're facing some issues regarding these bots and want help just make sure to comment your query I will try to reply ASAP. Thanks!